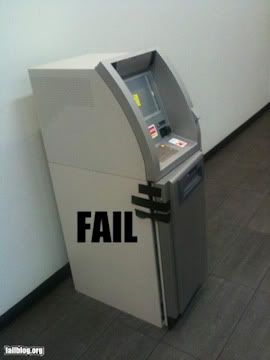 I have a love/hate relationship with ATMs. Whenever I really need to use them, they never manage to spit out any cash - some nonsense about insufficient funds or such. Anyway, the other day I had to get some cash deposited into my account rather than carry it around with me like some idiot with a ROB ME sign on my forehead. The nearest cash deposit machine was at MOE, so I decided to drive there after work for a bit and then head home.
So I head over to MOE, slide into a parking spot with all the finesse of Knight Rider, and head towards my bank branch. As luck would have it, there was no one at the cash deposit machine, so I gleefully walked up to it, popped in my card, and watched the machine slurp up my bank notes. Everything is going swimmingly at point, and the machine politely displays "Please wait for your receipt". So I stand there and wait. And wait. And wait.
10 minutes zoom past, and by now a couple of people have queued up behind me, patiently waiting their turn. Then from out of nowhere this bitch in the queue says to me "
Excuse me, are you standing here doing something?
" To which I reply "
Not really, I'm standing here because I've got nothing else to do in the mall
" which promptly shut the bitch up.
It's now been 15 minutes and the machine still stupidly displays "Please wait for your receipt" while the people behind me are running out of floor tiles to count. Some random guy in a suit the walks up to the machine and attempts to brush past me, but I cooly slide back in front of him and say "
Yes, I don't know if you've noticed but there's a queue here
", and flamboyantly gesture at the tiny crowd that's now formed behind me. He takes one look at them and promptly walks off - I guess he wasn't in any hurry to deposit cash after all.
20 minutes have gone by and I'm patiently ignoring the little voice in my head that's telling me to do what Chuck Norris would do - break the damn machine with my fists and take my money back. By some miracle, one of the bank's staff ambles over, only because the crowd outside the machine is turning into a bit of an angry mob.
This is a word for word account of what happened:
A man wearing an over-sized light brown suit approaches me. He has a receding hairline which has been combed into a slick side parting, and has a rather dumbfounded look on his face. In short, he looks like Mr. Bean.
Bean: What is the problem sir?
Me: I've deposited cash into this machine but it hasn't given me a receipt
Bean: You put cash or cheque?
Me: I just said, I put in cash
Bean: Ah okay. Just checking sir. So what is the problem now?
Me: The problem is I don't have a receipt for my deposit
Bean: (
seems slightly stunned, and stares at the display as if deciphering some hidden Matrix-type code
)
Me: So do I stand here and pray for a receipt?
Bean: Sorry sir?
Me: Am I going to get a receipt or not?
Bean: It is coming sir, machine is stuck maybe. Server is down.
Me: Which one is it - is it coming, is the machine stuck or is the server down?
Bean: Just wait sir
(proceeds to hold down the ENTER, CANCEL, and ERROR buttons, like a primitive Ctrl+Alt+Del. Nothing happens)
Me: Yea, I don't think that does anything
Bean: (
looks like his world is coming to an end
) Can I have your card please sir and ID?
Me: (
hands over bank card and ID)

Bean:
(scurries off to a teller while I watch him like a hawk - he comes back in 5 minutes)
Here you go sir - receipt.
You are reading this post on a blog is no longer maintained - please visit
www.outinmyhead.com
instead!